Through roughly 23 years of basketball I hadn't had a single ankle injury. Sure I'd been through 2 knee reconstructions and an arthroscopy to clear out cartilage from a torn meniscus, but ankles? Nah they were bulletproof. Oh how wrong I was.
If you possess even a passing knowledge of NBA you're more than likely to have heard of Steph Curry. The 2 time NBA MVP is one of the most fearless and skillful players on the planet, bombing away from deep; breaking ankles whilst flying into the paint with scant regard for his body; and all while plying his trade in the toughest and arguably most physically demanding league in the world (upwards of 100 games over 6 months??). There's little doubt that the arduous NBA schedule plays a significant part in most injuries we see today.
For Curry, there was a period where he was merely considered a really good player. Many experts predicted he would never meet his true potential. His seemingly never-ending run of ankle injuries played a large part in Golden State offering him what is now considered a bit of a low-ball contract (by today's standards – Mike Conley $150M anyone??). Then he began wearing the Zamst A2-DX Ankle Brace and the rest is history.
So, why the Zamst A2-DX Ankle Brace?
Why the love for the A2-DX? Well in 2014 I rolled my ankle. Then it healed. Then I rolled the other ankle. And again, and again. Over a period of 12 months I had hit double digits in sprained ankles. Fast forward to the present day, and I'm wearing one on each foot, and have done so for over a year. In terms of stability and comfort I couldn't find another brace that even came close.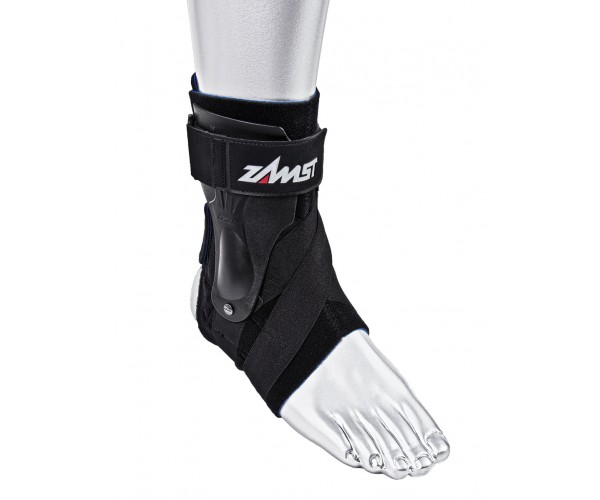 Initially you may find yourself staring at the brace and thinking "How on earth do I get this thing on?", however after a few wears you'll be strapping up like a boss. Although they may seem a little clunky at first the rigid guards provide amazing support, giving you a great sense of being "locked in". Lateral movement is top notch, the straps across the arch provide ever more support, and the plantar strap secures the plastic guard to avoid any slipping.
The materials are pretty lightweight and super comfortable. Post game they may tend to get a touch sweaty but a quick dunk in soapy water and place in the sun and they'll be good to go in no time.
Which shoe?
Choosing the right shoe is absolutely critical when wearing these. For example, you can forget about wearing this brace with the KD9's – you'll have no chance getting into them. I currently wear Jordan XXXI's and despite them being a high cut I find the extra room allows me to get the ankle brace in without trouble. Those wearing low cuts, Kobe's for example, will likely have no trouble fitting into the A2-DX. I had a slight issue with the Kobe 9's in that the outside of the bottom of the plastic guard would sometimes get a bit caught on the shoe cut, but this was only during certain movements. I would recommend taking your brace with you when trying on and purchasing any new kicks.
Summary
Overall you cannot go past the Zamst A2-DX. Its excellent stability, high quality materials, strong support and lightweight materials make it the premier choice for serious ballers.